Hi~🌺
I'd like to show you pasta menu this time♬(*´ω`*)
Akihiko now cooks many kind of dishes, but his favorite at first was Italian.✨🍝
Here're pasta with ingredients of Iriomote island.
Well,,, I'm already starving!!(≧▽≦)
Aglio olio of "Otani watari" & island gourd
The top pic is this one.💕🍴
<Ingredients>
・Asplenium antiquum Makino ("Otani watari")
・Gourd
・Carrot
・Cherry tomate
・Bacon
・Garlic
・Red pepper
・Olive oil
・White Wine
・Salt
Akihiko put many vegetables grown in Iriomote island! Very healthy~🍀(≧▽≦)
Although Akihiko loves simple Aglio olio with good flavor of garlic and olive oil, I do like pasta with lots of vegetables or meat.💕( *´艸`)
This vegetable pasta was really yummy as you could taste delicious flavor of each vege.✨🍴
It was surprising to know Otani watari goes well with pasta!✨(*´ω`*)
I'd like to eat it again~♬
Carbonara? No! "Miso"bonara!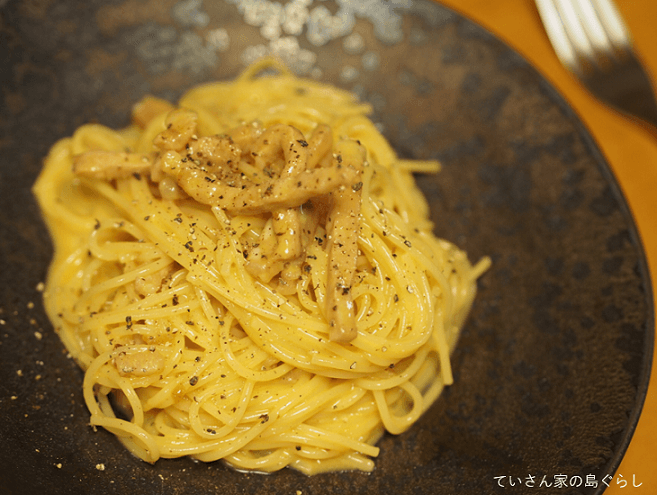 What kind of pasta do you think of from this pic?
Carbonara?
Yes, this is carbonara, but not ordinary one at all!
<Ingredients>
・Pork marinated in "miso koji"
・Egg
・Cheese
・Garlic
・Oil
・White wine
・Salt
・Black pepper
Usually, carbonara is made from eggs and Parmigiano-Reggiano cheese.
But here in Iriomote island, it's really difficult to get cheese of your choice.🧀
So we hadn't been able to have cheese pasta since we moved to here, but we could get good pork this time! That's why Akihiko made carbonara from cheese (not Parmigiano-Reggiano). 💪✨
It was... very very delicious!! 💕(≧▽≦)💕
Miso koji, made from fermented sorbeans, added deap flavor which reasonable cheese is lack of.
Writing this blog, I remember good taste of this "miso"bonara...(*´ω`*)
I'd like to eat it again!!!! ♬( *´艸`)💕

🧀Check the price of cheese etc in Iriomote🧀