Hello!
Now we're very happy to be able to get fish pretty often compared we couldn't right after coming here♬(*´▽`*)💕
So I'd like to post about fish dish again~☆(・ω・)ノ
(Please also check fishing dish #1🌴)
Fresh sashimi is SO delicious!
<Ingredients>
・Rainbow runner
・Barracuda
・Variola louti
・Okinawa spinach
・Flat lemon
When you catch a lot of fish, don't you like to eat them fresh as sashimi?💕
I know it's hard to clean fish to sashimi, so I'm always thankful to Akihiko.☺🍀
He's very good at using knife and tries a lot so that he can do better.
As for me,,, I practiced once when I was in Osaka, but it was really difficult to fillet a fish into three pieces.
Besides, I didn't like to touch internal organs, so I gave up..((+_+))
Anyway, if you eat fresh fish sashimi in Iriomote, you'd like it!
Roasted bananafish salad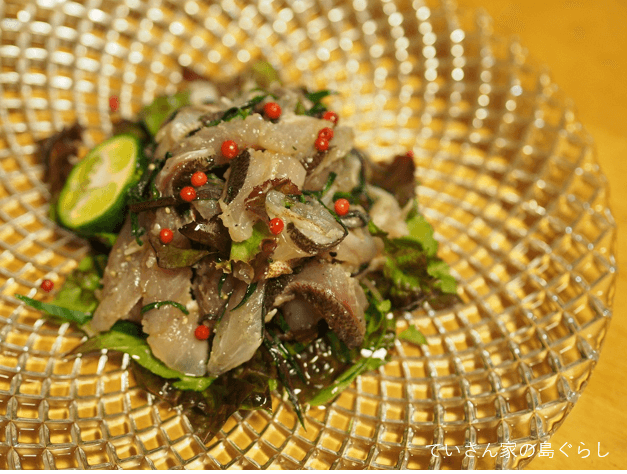 <Ingredients>
・Bananafish
・Pink pepper
・Okinawa spinach
・Lettuce
・Flat lemon
Another bananafish dish is here! Cause we had lots of them and had to eat them! 💕( *´艸`)
Look at this roasted salad.
Isn't pink pepper cute?
This I assume Akihiko bought for Christmas party when we were in Osaka.
Because of cute pink pepper, the salad became instagrammable. lol ✨
Only eating pink pepper is a bit too spicy, but with roasted fish and vegetables it was very tasty!🍴🌺(*´▽`*)