After moving to Iriomote island, we were busy with unpacking, tidying up and being used to our new job.
Because Akihiko's off is not always weekends, it was difficult to go fishing about 1 and half months.💦
Yet finally we could go fishing on ship!
Today, I'd like to talk about it~💕🎣(≧▽≦)
So beautiful ocean!! far side of Iriomote
On the day of fishing, it was so nice weather!
Blue sky~♬☀
There were some clouds so it wasn't too hot and very comfortable to enjoy fishing.
It seemed like welcoming us♡( *´艸`)♡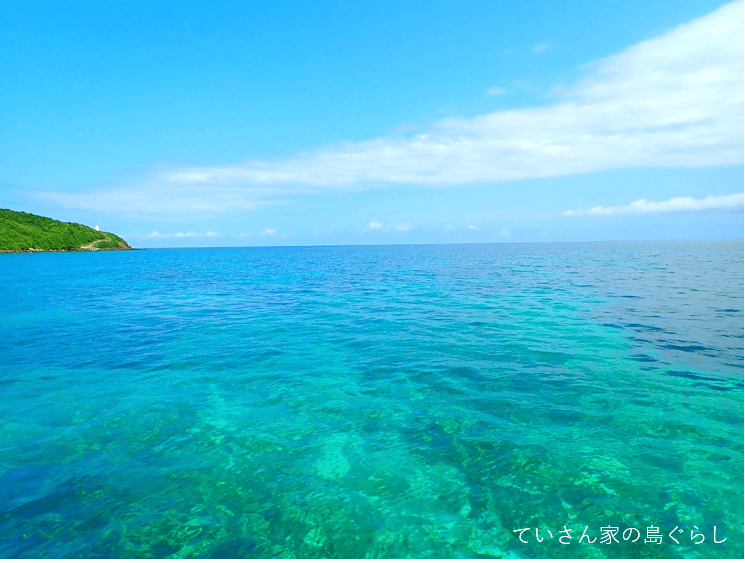 Look at this ocean!!
So beautiful blue, and emerald green!✨
It was some minutes away by ship from Shirahama port.
Even though the depth is 10m or 18m, you can see sea bottom from the ship!
How transparent!!
There're still such a beautiful ocean in Japan.
We were just moved by this wonderful ocean color and transparency...
Well, can we get fish by artificial bait?
According to our guide of this day, people living in Iriomote often go fishing but not by artificial bait but by live bait.
So, he prepared for us krill and saury fish for bait.🐟
Yet, we had enjoyed fishing with artificial bait as game, so we first tried our own bait.
Is fish tricked by artificial bait even though sea water is too clear??

...well, as you might imagine, there was no bite at first...(´・ω・`)💦
I almost lost patience and started to consider changing bait to live bait.
Somehow managed, I kept casting a few hours and finally...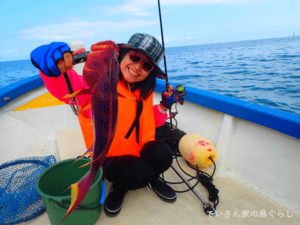 I got it!!! yayayay!!!💕(≧▽≦)
What a colorful fish it is! This is a tropical fish♬
The name is Variola louti.
Have you ever heard this name?
Some years ago, Variola louti became a hot topic as "poisonous fish" as it was accidentally distributed to Tsukiji market.
Because it was a nationwide news, people started to consider Variola louti as toxic, but not all Variola louti has poison!
I also believed it was toxic, but according to the guide, Variola louti is an expensive fish and people living in Okinawa often eat it as sashimi (raw fish).✨
Though I couldn't figure out whether the Variola louti I caught was safe, I was told,
"You can eat this! It's delicious!"
Because he was a skilled, experienced guide, we decided to take it home♪☺🍴
Then, Akihiko also fish on!!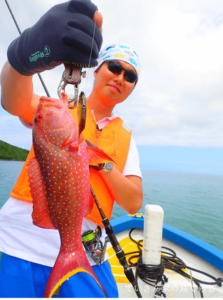 He caught the same colorful Variola louti♬
So happy to be able to get fish~!!(*ノωノ)💕
Because of this pleasure, we cannot stop fishing~ lol
Changed to live bait! the result is...
I had one more Variola louti but wanted to get other fish.
Then our guide started live bait fishing, so I asked him to let me do that, too.
Then, after a few seconds of casting, my rod was shaken!
I could get many of bananafish!! yay!!✨🎣
As we hadn't gone fishing recently, I wanted to catch as many as possible.( ̄▽ ̄)🍀
After changing to live bait, one casting gave us one to three banana fish !! wow!
I couldn't imagine how effective live bait was! 🐟✨
During the rest time of fishing, I continued using live bait. ☺
Let me tell you the result of 8-hour fishing...
Look at this!!!!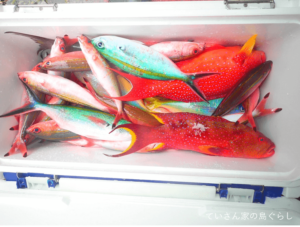 So many fish~!!!! Yayayay!👏✨ (≧▽≦)/💕
We were so satisfied by this volume~♬
After taking back home, Akihiko cooked them.
I'll talk about that later on~🐟