Hi🌺
We started our new life in Iriomote Island, Okinawa in Apr 2019.
When we told our friends about our movement, almost all the time we were asked the following questions;
" Where's Iriomote Island? "
" How can we get there? "
Then we noticed the location of Iriomote Island is not well known as long as you're Okinawa lover.
Here, I'd like to tell you access to Iriomote Island and Shirahama area located in far west of Iriomote☆
You can be familiar with Yaeyama islands of Okinawa~!
Where's Iriomote island?
First of all, Iriomote island is one of the islands called "Yaeyama islands."
And the Yaeyama islands is almost 1 hour distance from Okinawa main island! ✈✈✈
From Naha to Iriomote is about 440km.
Comparing 440km from Osaka to Tokyo, Iriomote is located much far from it.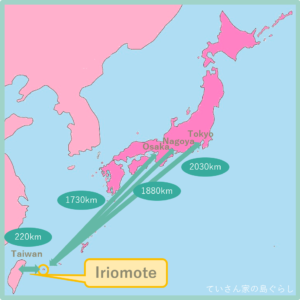 Please look at the map. Do you notice?
It's about 220km to Taiwan.
That means, Iriomote island is located closer to Taiwan than to Okinawa! Isn't it surprising??
No plain to Iriomote island
Yaeyama islands is very popular as tourist spot.
The number of tourists is increasing every year, but there're many islands with no airport.
Iriomote island is one of them.
As you cannot come directly by air, please come to Ishigaki Airport and take bus and high-speed ferry.
Ishigaki Airport → Island Terminal
High-speed ferries to all islands including Iriomote departures Island Terminal (we call "Rito Terminal") located in downtown of Ishigaki island.
Arriving at Ishigaki Airport, take your baggage and go out from 1st floor.
If you get out from domestic terminal, turn left and go straight for a while.
Then you can see bus stop, showing "to Terminal" or "to Port," hand over your baggage to a bus staff and get on a bus. (There's no baggage tag.)
Enjoy your bus ride about 30~40 min, viewing sugar cone fields!
Island Terminal → Iriomote Island
Iriomote has 2 ports, Uehara port and Ohara port.
So please check carefully which port you need to go before buying a ticket!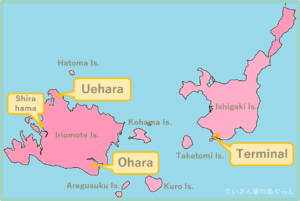 Attention① / 2 ports of Iriomote isn't close each other
It takes about 1 hour by bus between Uehara port and Ohara port.
Therefore, if you arrive at wrong port, you might not be able to get a pick up from your tour guide or hotel.
High-speed ferry fare
Ishigaki - Iriomote (Uehara)
… about 45 min. JPY2,390/one way
Ishigaki - Iriomote (Ohara)
… about 40 min. JPY1,830/one way
High-speed ferry to Iriomote is operated by Anei Kanko and Yaeyama Kanko Ferry.
Because it's joint operation, whichever ticket you buy, fare, schedule and vessel is the same.
Attention② / Ferry is co-operated, but bus is not!
As the ferry is joint operation, you can buy a ticket at whichever counter.
Please keep it in mind, however, there's one point you need to pay attention.
That is, a ticket to Uehara port when it's via Ohara port!!
When strong north wind, the sea gets rough and ferry cannot reach to Uehara port.
Especially during winter, ferry to Uehara is often cancelled due to rough sea.
In this case, you can still go to Uehara, but it becomes via Ohara.
You can take ferry to Ohara port and from there, bus takes you Uehara port.
The problem is...
High-speed ferry is co-operated, but bus from Ohara to Uehara is not!!
When you come to Ohara by ferry with ticket to Uehara, bus will be like this;
| | | |
| --- | --- | --- |
| | High-speed ferry | Bus from Ohara |
| Anei Kanko | either ferry is ok | Only Anei Kanko bus is free |
| Yaeyama Kanko Ferry | either ferry is ok | Only YKF bus is free |
I don't know why...I cannot understand at all...
Bus schedule is also different, so please pay attention and take a look at HP of each company when ferry to Uehara is cancelled!
Transportation in Iriomote island
Welcome to Iriomote island.
From each port, transportation choice in Iriomote is like these;
Shuttle bus by ship company
When you get off and in order to get on high-speed ferry, ship companies offer us shuttle bus!
◆From Ishigaki to Iriomote:
At the ticket counter, ask ship company to issue bus ticket in Iriomote.
When you arrive at port in Iriomote, shuttle bus is waiting for you.
I believe driver will ask you where to get off, so you can tell him your destination!

◆From Iriomote to Ishigaki:
In order to get to port, you can call and make a reservation for shuttle bus.
Otherwise, it's possible to just go to a bus stop and wait.
Once you see the shuttle bus, wave your hand and let driver know you'd like to get on!
Please note that you can take this shuttle bus as long as you are to or from port. (not bus stop to bus stop)
Local bus : 4 bus a day
Public transportation is only bus.
Even so, basically we have only 4 bus a day.
It's better to take a close look at local bus schedule.
Credit card is not available, so please take small change with you.
(You can use 1,000 yen bill, but not 5,000 or 10,000 yen bill)
Notice in the bus says payment in advance, but driver sometimes says to pay later.
So it'd be better to ask bus driver~!
Early booking is recommended for car rental
If you'd like to make the most of your time, car rental is the most convenient way of transportation.
As Iriomote is the island, number of cars is limited.
So it's better to book as soon as possible if you decide to rent a car.
When you driver a car, please drive slowly and carefully.
This is very important!!
The reason is, not only people but wild animals use roads here in Iriomote.
Please keep the speed slow and take care not to have traffic accident!!
The most reasonable transportation is...
If you like to spend much time in hotel and don't go around by yourself, you can save your money by making use of pickup service of tour guide or rental cycle.
Some restaurants have pickup service, to please check and confirm~☺
To Shirahama, the end and origin of road in Iriomote
The main road in Iriomote island is only prefectual road #215.
Even this road is not surrounded Iriomote island.

In order to save nature and wild life, there's no road inside and south-west part of Iriomote island.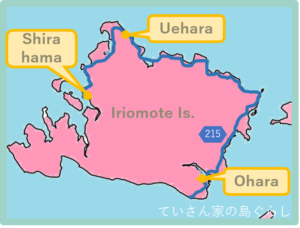 Because of that, you can see the end (and the origin☺) of the road, which is rare in Japan island.
If you take a public bus to west, Shirahama is the last bus stop.
You can see beautiful ocean in front of this inn.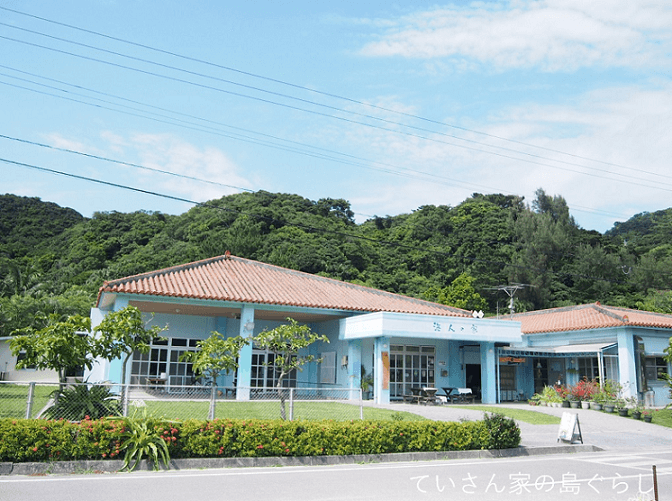 It's very relaxing to sit in front of this inn and feel wind.
Mangrove and ocean of emerald green & light blue is waiting for you.
I like Shirahama area~!
About 30 min. by car from Uehara port
The far west of Iriomote island.
It might not be easy to come from Ishigaki island, but I do recommend you to come and visit here Shirahama.