Hello~🌺
What are you going to do this summer?
If you'd like to relax feeling nature, Yaeyama islands such as Iriomote island and Ishigaki island would be one of the best choices of summer destination!
A lot of activities in the ocean, river and jungle are waiting for you.
This time, I, having traveled to Yaeyama for 8 years, tell you what to bring with in order to make the most of Iriomote island trip!💼(≧▽≦)👒
What to bring to Iriomote island ☆Top 8☆
Here's a list of what we recommend you to bring with to Iriomote island.
It'd be also helpful when you visit other islands!
①Long-sleeve cardigan
Were you surprised at this?
Why do you need long-sleeve shirts in tropical island?!
It is true that average temperature of Iriomote island is more than 28℃ during Jun to Sep, but what you shouldn't forget is air conditioning!
I always feel chilly not only in aircraft, but in vessel between Ishigaki and Iriomote!!🚢⛄
As many people get on this vessel, it can't be helped to keep temperature low, but it's stressful bearing cold for about 50 mins.
In addition, air conditioning is strong in some restaurants, so long-sleeve cardigan or scarf might be very useful. 🌴(*´ω`*)
②T-shirts 1 or 2 more than number of stays
Because of the heat, you would sweat a lot here in Iriomote. 💦
Aren't you uncomfortable when you go out dinner in sweaty clothes?
If you can use washing machine in your hotel, you don't need to worry about, but if not, it'd be better to have 1 or 2 more T-shirts so that you can change your clothes easily.
③Swimsuits
You might feel like swimming or going into sea when beautiful ocean is right in front of you! ( *´艸`)🌊
Or you might join activity tours such as yoga, SUP and kayak moved by beautiful nature.
I was the one enjoyed activities often, so I usually wore swimsuits instead of underwear.
You don't need to feel anxious at sudden shower♪☺
④Beach sandals
Many island residents put on beach sandals all year round.
As it's really hot in Iriomote and sea water is very beautiful, I recommend to bring beach sandals♬
⑤Sunglasses
Here in Iriomote island, sunshine is strong~🌞
So sunglasses is necessary and if you can, polarized sunglasses is the best!✨
With polarized sunglasses, you can easily see into the water and find swimming fish and sea turtles💕🐟🐢
⑥Plastic bag
It's convenient to have plastic bags so that you can put wet clothes and towels into it.☆
⑦Folding umbrella
You don't know when shower happens, so bring folding umbrella just in case.☔
⑧Waterproof camera, Waterproof camera case
If you plan to go not only to sea and river, but to jungle, you might get drenched because of sudden shower.📷
So please take care not to break your camera with rain or sea water.
It's really sad not to be able to take pics during whole trip!
During the first 3 years visit to Yaeyama islands, we used our camera packed in waterproof case.
Waterproof camera bag enables you to protect your camera from wet and sand.
It was very useful!
リンク
As we started to enjoy outdoor activities more often, however, we found camera bag has a disadvantage.
That is inconvenient to touch the screen and buttons.
Because of the cover, we had some difficulties seeing screen and touching buttons especially in the water.
If you use the camera more often, you could feel it less convenient.
So, we decided to get a waterproof camera!
Our favorite waterproof camera is "Olympus Tough" which is very popular, being good at show blue very vividly and beautifully.✨📷
We've been using this series for more than 6 years! 💕
リンク
What to bring to sea, river and jungle ☆Top 8☆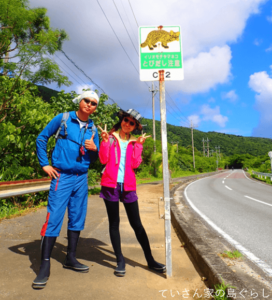 More than 90% of Iriomote island is jungle.
You can enjoy rich nature and here's what you'd better bring for outdoor activities!
①Sports wear
Look at our usual outfits to join a tour🌺
Like this, it's better to put on sports wear so that you can jump into sea, river and waterfall~👍(*´ω`*)
②Long-sleeve & long-length wear
Sunshine of tropical island is so strong that you might get burned hard unless you put sunscreen.💦
Even so, putting on sunscreen whole the body is very troublesome, isn't it!?
Therefore, we usually put on long-sleeve sports wear and long-length sports stockings in order to protect our skin.✨
リンク
③Hat with strings
To protect scalp from strong sunshine, you can't forget to put on hut!!
And it's better to have strings with hut so that it won't be blown away even on boat or kayak.
As for Akihiko, he usually put towel around his head and that also works~☺
④Felt-soled shoes
Have you ever heard felt-soled shoes??
Usually, the sole of water shoes is made from rubber.
In this case, rubber won't absorb shock enough to protect your foot.
On the other hand, shoes with felt sole is anti-slip and works very well to soften impact when you walk around on beach, slippery rocks and in muddy jungle.✨
So, most of the tour guides in Iriomote island use this felt-soled shoes.
For your safty, if you're going to bring your own outdoor shoes, I do recommend to get felt-soled shoes, not water shoes! (*´ω`*)
リンク
⑤Waterproof bag
Because of shower, high tide or accidents, your belongings might get wet.
Most tour guides will let you use waterproof bag for free during the activity, but if you plan to enjoy by yourself, it's a good idea to bring one!
⑥Insect repellent
Unfortunately, there're lots of insects in Iriomote island because of its huge jungle.
When going out at night, let's use insect repellent. 🌛
⑦Swim goggles (Snorkeling set)
As you see beautiful blue ocean, you might feel like looking into the water.(*´ω`*)
If you're going snorkeling tour, usually you can rent swim goggles from tour guides.
If not and are going to sea by yourself, please take your own swim goggles as it might be difficult to get one in the island.
⑧Water bottle
Many tour guides prepare water for you, but better to have your own.
To prevent heat strokes, please take care to drink water often and take some salt.🍹
(You can buy a bottled drink but it's not eco-friendly... so it'd be great if you have your own bottle.)

Convenient item to prepare typhoon and blackout
◉Portable battery
Because typhoon comes super often to Okinawa, we can't avoid risk of blackout by electric wire cut and utility pole broken.🌀
Some hotels have private power generators, but some do not.
So, it'd be better preparing by yourself.
If you're a tourist, you can use your cellphone as an emergent flashlight, so how about having portable battery for your safety?🔦
リンク
Please do NOT bring this with you!
×Worn-out clothes to throw away
Have you ever thrown away old clothes, socks or towel at trip destination? 👔
It might be convenient to do this so that your baggage would become light, but please think it over.
In islands, trash disposal is a big problem as it's hard to maintain refuse incinerators and deliver fuel to them.🚢
We're trying our best to reduce garbage so that we can keep living with beautiful nature.
So, please take some time and think about what you can do or what you shouldn't do, in order to protect the nature of islands.
By doing so, you can enjoy wonderful time in future, too.🌺(*´ω`*)
Do you have everything??
In order to make use of Iriomote island trip, be careful to bring all your necessary item with you!💼(≧▽≦)
(Such as smart phone, wallet and so on☆)
Have a nice trip to Iriomote island~! 😉 💕(・ω・)/ 🌴