[bogo]
We visited "Shima Italian EN" in Iriomote island as my husband had wanted to go there for a long time.
This "Shima Italian EN" is only one Italian restaurant in Iriomote island and has good reviews from people living here.
Let us inform you the store information and dinner menu of Shima Italian EN!
Business hours & Access of "Shima Italian EN"
Here's a basic info of Shima Italian EN.
Name
Shima Italian EN
Regular holiday
Thursday
Business hours
18:00~23:00 (LO 21:30)
Address
Taketomi town Uehara 870-192
Access
About 10mins drive from Uehara port
About 15mins walk from Iriomotejima hotel
Payment
Cash only
No of seats
24 seats (no private room)
Child chairs
○
Reservation
○
TEL
0980-85-6457
Pick up service
×
HP / SNS
食べログ
You might not get lost as its location is along side of prefectural road #215.
Shima Italian EN is on the left side when coming from Uehara.
In Iriomote, there're a few restaurants and tourists're often worried about their dinner.
Especially during summer vacation season, restaurants are always packed.
So it'd be great if you make a reservation in advance!
What is "Shima Italian EN" like?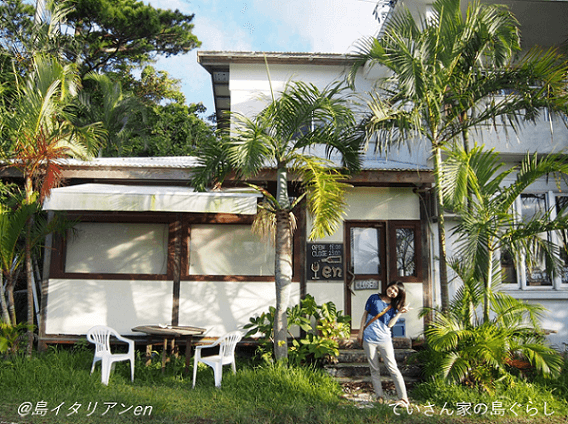 This is the exterior of Shima Italian EN.
As you can see, you can enjoy tropical atmosphere with palm trees.
Shop sign made by corks is cute!
Woody interior makes you feel relaxed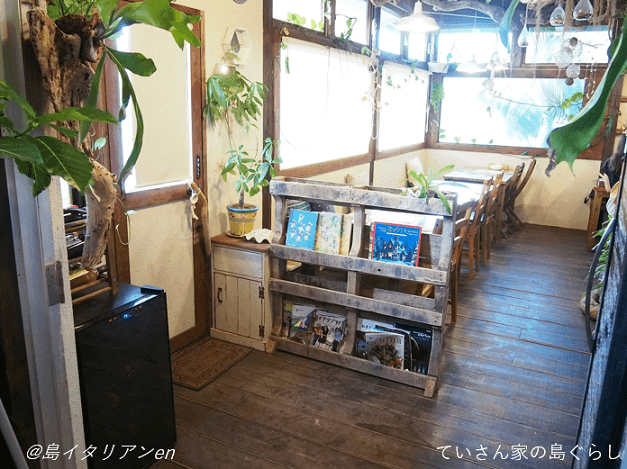 Once in Shima Italian EN, you'll feel stylish and warm atmosphere with woody furniture.
There're 2 sections and the left section is like the above.
You'll enjoy soft sunlight through sun shades.
Our table was on the right side of the entrance and it was like the bellow.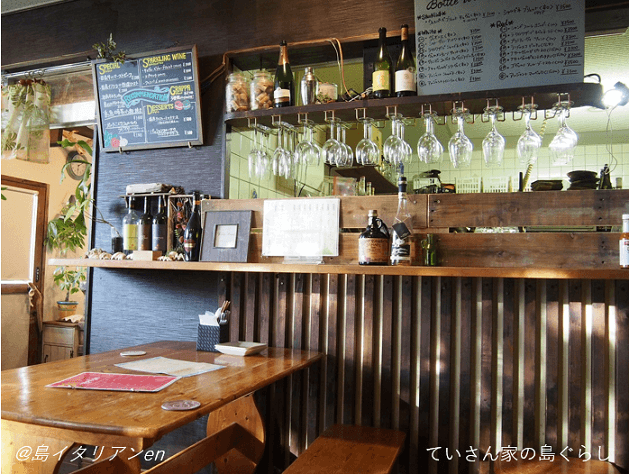 The room color is changed from white to brown and black.
Its interior is more stylish and fashionable than the other.
With many glasses overhead, you'll feel you come to Italian restaurant!
It was really comfortable to stay there!
Feel the nature of Iriomote with handmade ornament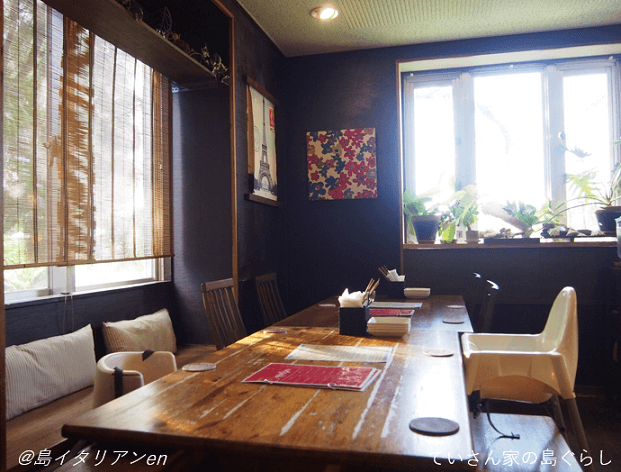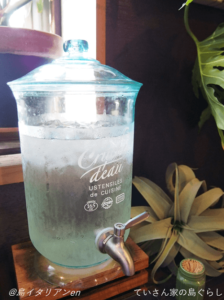 With coral, sea shells and plants, you can feel the nature of tropical Iriomote island.
Handmade ornaments created by the restaurant owner is very nice and pretty.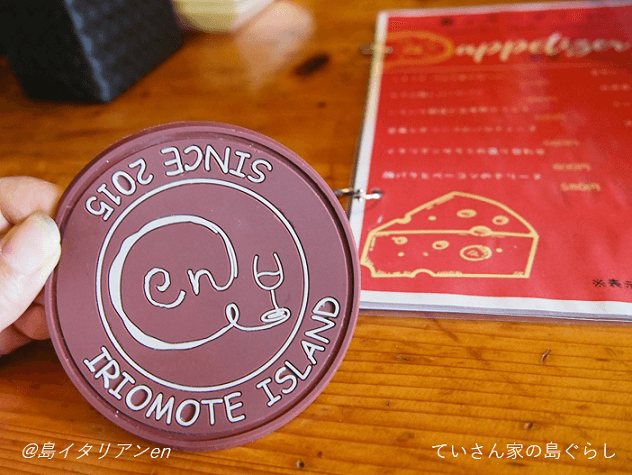 The coaster of Shima Italian En is also cute!
Menu of "Shima Italian EN"
As you can imagine from shop name "Shima(=Island) Italian", they use lots of ingredients made in Iriomote.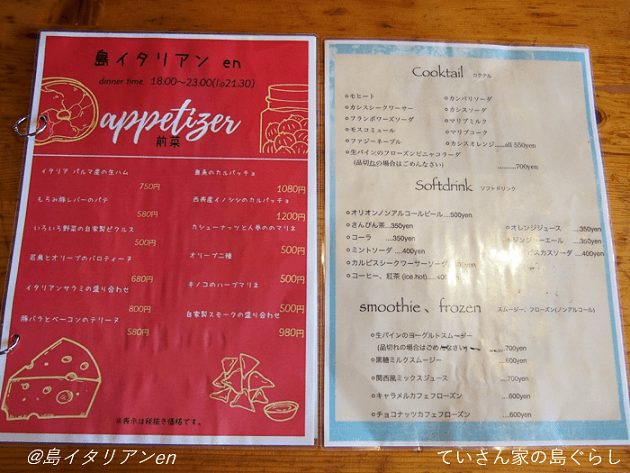 The menu of appetizer and drinks.
For people who don't drink alcohol, they prepare many kinds of soft drink such as fruits juice, frozen juice and smoothie.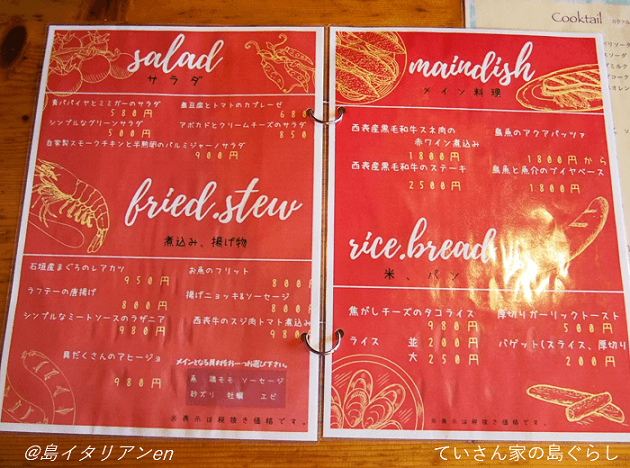 Many kinds of food with Iriomote ingredients!
You might order too much? lol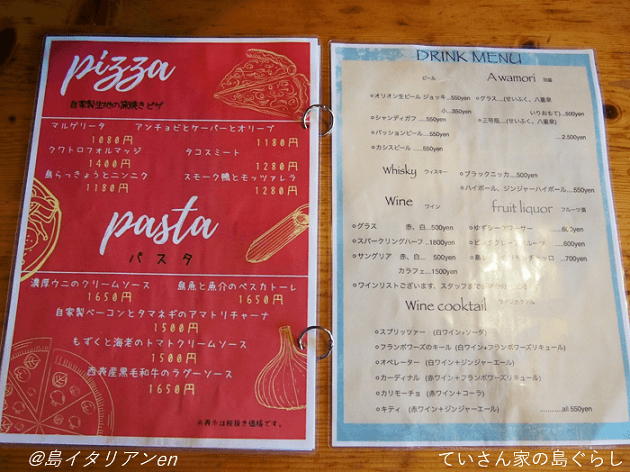 You can also have a brick-oven pizza!! 
Wow~~! I can't decide what to order!
※The menu and price above was as of Aug 2019. It'd be changed when you visit.
What we had in "Shima Italian EN"
As there were lots of menu we'd like to have, it was difficult to choose some!
What we ordered are...
Blown sugar & Milk Smoothie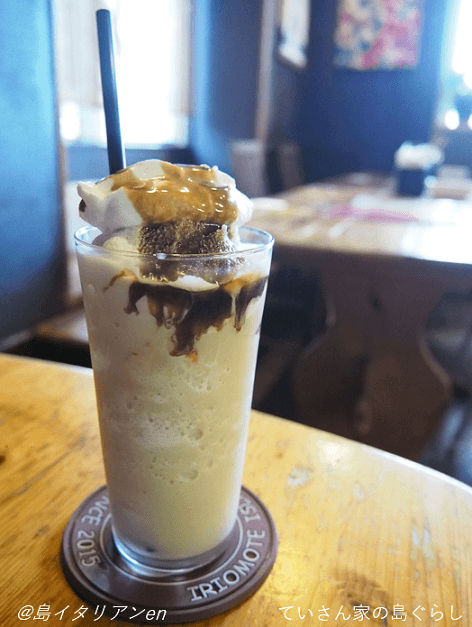 This was really good especially when you got tired of hot weather.
Not too sweet and I loved it!
Shima tofu & Tomato Caprese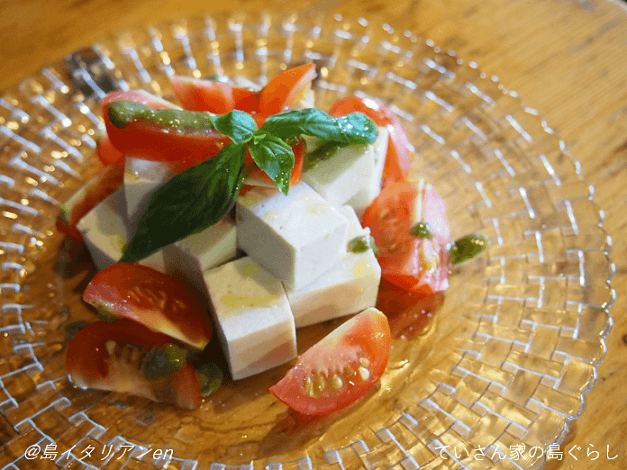 Usually, caprese is made of Mozzarella cheese and tomato, but here in Iriomote island, it's not easy to get cheese.
In spite of cheese, Shima Tofu goes well with Basil Pesto!
Carpaccio of Iriomote Wild boar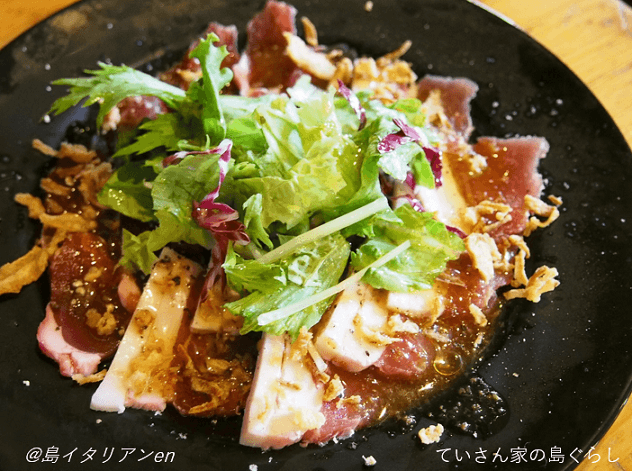 You can eat Iriomote Wild boar only in Iriomote!
It's crispy outside and tender inside!
Deep-fried Okinawan-style stewed pork cubes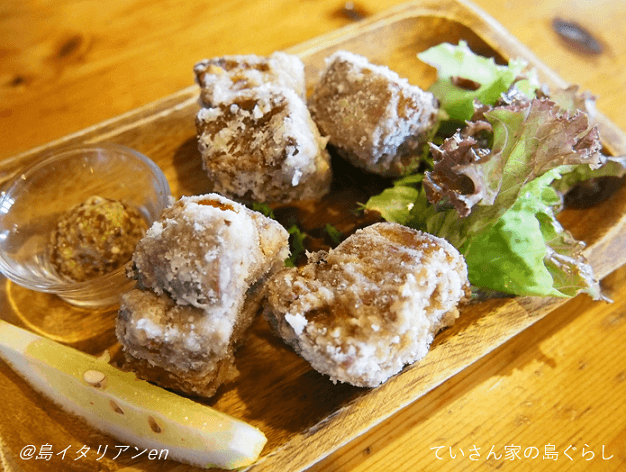 Okinawan traditional food, Stewed pork cubes become deep-fried!
This is also very crispy outside and tender and thick inside!
Ragu sause pasta of Iriomote Japanese Black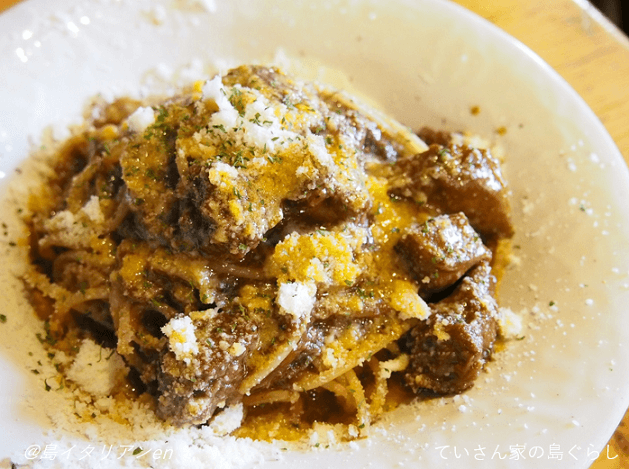 How luxury Japanese Black is!
This pasta tastes rich and thick and one of the most popular menu in Shima Italian EN.
Pescatore of Iriomote seafood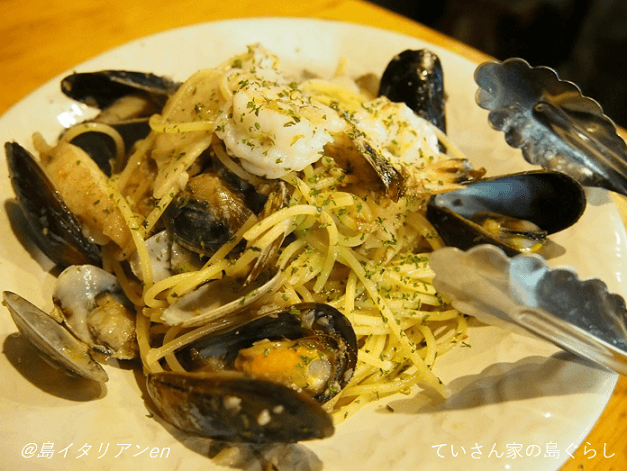 Though I wanted to eat brick-oven pizza and fish, I was almost full and chose fish this time.
With lots of seafood, this pescatore pasta had very rich flavor.
Passion fruits Cheese cake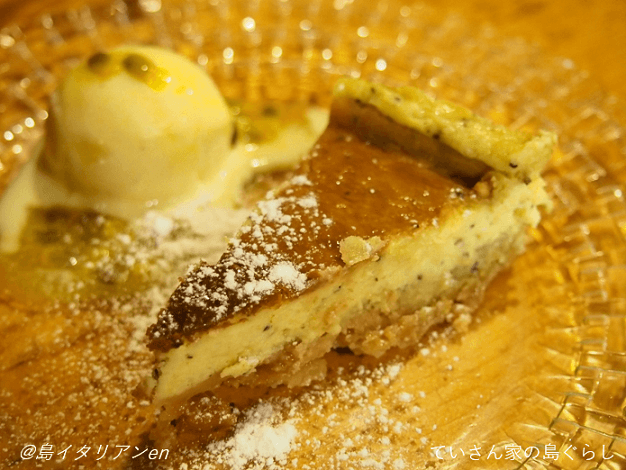 On this day, they prepared Chocolate terrine and cheese cake.
Cheese cake contained passion fruits and it was fresh, crispy and declectable!
Nice points of "Shima Italian EN"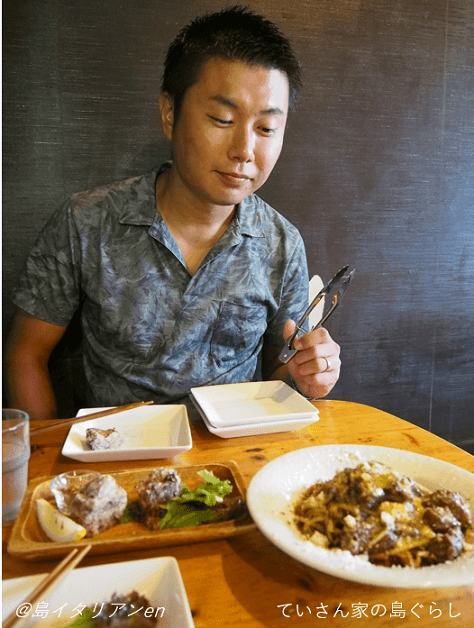 In the Shima Italian EN, you can enjoy tasty Italian food with stylish and cozy atmosphere, feeling tropical nature, Iriomote Okinawa.
It'd be good to visit with your partner, family or friends.
What we were satisfied with are bellow;
Many food menu with Iriomote ingredients
You can have delicious Italian food
Photogenic stylish interior
Smoothie was good
Desserts was also good and affordable!
As there were more food menu than we had, we'd like to visit there again.