We got lots of basil from my grandma~.
Do you have a food processor? If yes, have you ever made Genovese sause?
It's very easy to cook and lets you prepare high quality dish!
Genovese sause
Let's make Genovese (basil) sause first.
In Iriomote island, however, it's very difficult to get what you usually need to cook Genovese sause.
So, this time Akihiko thought out alternatives!
Ingredients
A large amount of Basil
Olive oil
Pine nuts (We used walnuts instead)
Grana padano cheese (We used mix cheese instead)
Garlic
Salt
How to cook
Grate Grana padano cheese into powder
Put pine nuts or walnuts, olive oil and garlic into food processor
Stir food precessor
Put basil, salt and cheese into ②
Stir again
Taste the sause and adjust the amount of condiments to your liking
Basically, what you need to do is to put ingredients into a food processor and to stir it.
Isn't it surprisingly easy?!
Pork loin with Genovese sauce
Roast pork and put the original Genovese sauce on top of it.
It's easy to cook, but very tasty thanks to flavor of basil!
(The picture is the above one.)
It was very tasty!
But what we learned was that it wasn't rich enough when you used mix cheese instead of grana padano cheese.
Considering a lot, here's a dish with more rich taste⤵
Fried tropical fish with Basil tartar sauce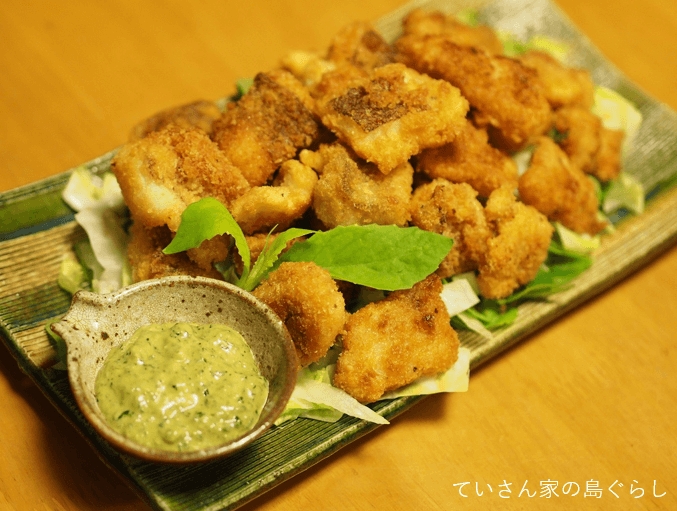 Mix the original genovese sause with mayonnaise. It tastes like Tartar sause.
Ingredients
Lots of groupers (or whitefish)
Bread crumps
Genovese sauce
Mayonnaise
White balsamic vinegar
Olive oil
With basil tartar sauce as an accent, fried fish became light and rich.
I couldn't stop eating them!
If you can get basil with huge volume, how about trying these?