Good evening~🌴
Here's Akihiko's original dish vol.2! ✨
This time, we got valuable meat in Iriomote! ☺🍴
That meat is...
Expensive ingredients / Ryukyu Boar!
Have you ever heard Ryukyu Boar?
It is a boar endemic to Ryukyu(=Okinawa) area. 🐗
This boar is smaller than that of Japan main islands and rare because it's not interbreed with pigs.
I've heard boar meat is soft and very tasty, but haven't imagined to be able to eat soon.
We were so happy to get it!! yay!
People catch boar by trap
They need a licence to set a trap.
It seems many of people living long in Iriomote island have this licence and a man who gave us boar meat this time also had licence.🐗
"Here you are~. You can eat this as long as it doesn't smell bad~😉👍" lol
He brought frozen boat meat to office for us♡(*´ω`*)♡
Thank you so much!!
We were really glad to get this precious boar meat for free~ 😋🍖
Roasted Ryukyu boar meat☆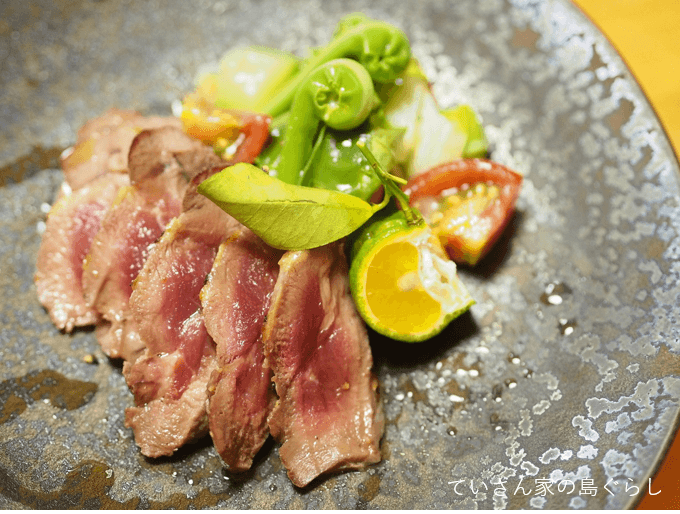 We wanted to know the taste of boar meat, so Akihiko decided to cook it roast.✨
To our surprise, boat meat is very good with soy sauce, especially garlic soy sauce and ginger soy sauce!
Isn't it interesting?? (≧▽≦)b
This roasted boar was so tasty!☺
I do hope you come and try this~❤(*´艸`*)❤
<材料>
・ryukyu boat meat from Iriomote is.
・citrus depressa from Iriomote is.
・ootani-watari from Iriomote is.
・tomato
・cabbage
・garlic
・chill pepper
・salt & black pepper
・olive oil
・ginger soy souse
・awamori (=sake)🍶
Oh I almost forgot.💡
We also got citrus depressa for free from Akihiko's workplace♬🍋
Thank you very much for these yummy island ingredients~♡(≧▽≦)♡